BBQ Wings
To Order Call 0300-0341022
Units Sold: 0
A BBQ wing, in the cuisine, is an non-bread chicken wing section that is generally deep-fried then coated or dipped in a sauce consisting of a vinegar-based cayenne pepper hot sauce and melt butter prior to serving. Like most kinds of chicken, the sauce and preparation dictates the drink pairing. Here are four ways to pair different types of chicken wings. Buffalo wings. Barbecued. Light fruity glaze. With Southeast Asian-style wings.
How are BBQ Wings?
Wings are particularly well suited for the grill. Since, they have a huge skin to meat ratio, therefore the fat from the skin bastes the meat as the skin itself crisps to perfection over the grill's high heat. After that, juicy, browned wings are left that can handle any kind of sauce. And Food & Wine's guide has a lot of
sauce options
.
Ingredients
pounds chicken wings
reduced-sodium soy sauce
barbecue sauce
honey
all-purpose flour
Serving the BBQ Wings
A serving of chicken wings is 4.4 ounces, or about four wings. Portion size, or how much of a particular food you actually eat, is important for staying slim. Most of the time you have to "guesstimate" the right serving size.
CLICK HERE
.
You can book your seat for dine in at Tandoori Restaurant (
http://tandoori.com/
) or order a home delivery through
Yumfoody
or Call 0300 0341022
[caption id="" align="alignnone" width="638"]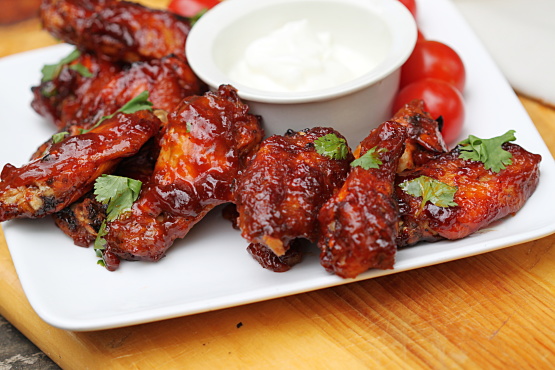 The BBQ wings gets load of flavors from the slightly sweet honey-barbecue sauce. In other words, they're just the tiniest bit sticky exactly the way they should be. Taste of Tandoori[/caption] About Yum-foody Yum Foody bring all relevant information related to food industry under single umbrella like Bridge. Info between food suppliers, consultants & eateries, list of Institutes providing food technology course, technical & business articles, job opportunities.
A discuss forum to share knowledge and information. Visit https://www.yumfoody.com