This restaurant Owner is currency on vacation. You will not be able to purchase products while this restaurant Owner is on vacation.
Pepproni Pizza
To Order Call , 0300 0341022
Units Sold: 6
Pepperoni is an American variety of salami. Therefore, It is made from a cured mixture of pork and beef seasoned with paprika or other chili pepper. Pepproni is characteristically soft, slightly smoky, and bright red in color. Thinly sliced pepproni pizza topping in American pizzerias.
Pepperoni
It is full of sodium, sugar, preservatives, saturated fat, and calories. Similarly Pepproni pizza undergoes fermentation, or curing, within its casing. This processing gives the pizza a tangy flavor and a chewy texture, hence, the product may be dangerous because of all the unhealthy additives.
Ingredients
2 cups (~8 oz.) mozzarella cheese
¾ cup almond flour
1 tablespoon pizza husk powder
3 tablespoons (~1.5 oz.) cream cheese
1 large egg
1 tablespoon Italian seasoning
½ teaspoon salt
½ teaspoon pepper
Toppings
1 cup (~4 oz.) mozzarella cheese
½ cup pizza tomato sauce
16 slices Pepproni Pizza
Optional: sprinkled pizza oregano
Yumfoody
's aim is to bring all relevant information related to food industry under single umbrella like Bridge between suppliers, consultants & eateries. List
of Institutes providing food technology course, technical and business articles, job opportunities and a discuss forum to share knowledge and information. Visit https://www.yumfoody.com
You can book your seat for dine in at Cheezious Saddar Restaurant (
http://cheezious.com/
) or order a home delivery through Yumfoody. Call 0300-0341022 [caption id="" align="alignnone" width="800"]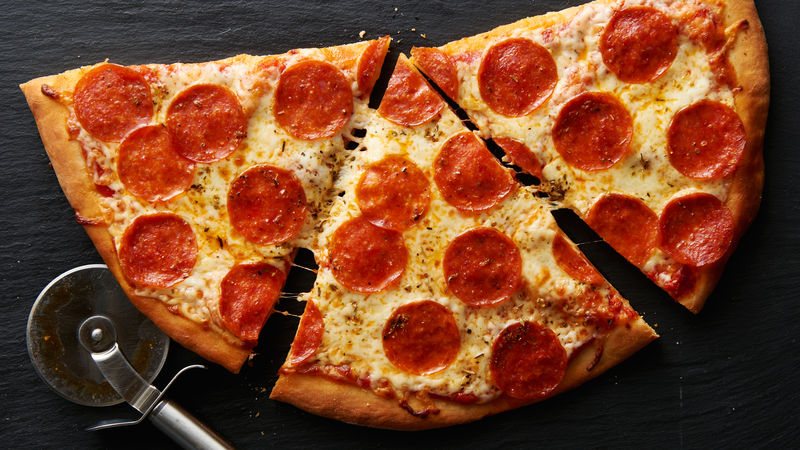 This delicious, hearty pizza is far from light-tasting, but nutritionally it soars above most other options in the deep-dish pizza category. We cook it in a cast-iron skillet to help give it a deep-dish pizza look and feel. For a crisp, not soggy crust, the key is to start the crust on the stove top, then top it. After that, transfer it to the oven. Above all, round out your meal with a side salad and your drink of choice.[/caption]